Pumori-Energy makes approx. 60 thousand blades and vanes yearly; more than 12 thousand of them are exported. They are blades and vanes for steam and gas turbines and for compressors.
The main features of a specialized blade producer are flexibility, and ability to meet large customers' needs in terms of quality, manufacture time and price. Therefore, modern machining and management technologies should be adopted.
INFORMATION ABOUT THE PROJECT:
PROJECT FEATURE
The Customer, a Pumori Corporation company, draws upon cooperation with other member companies of the Corporation.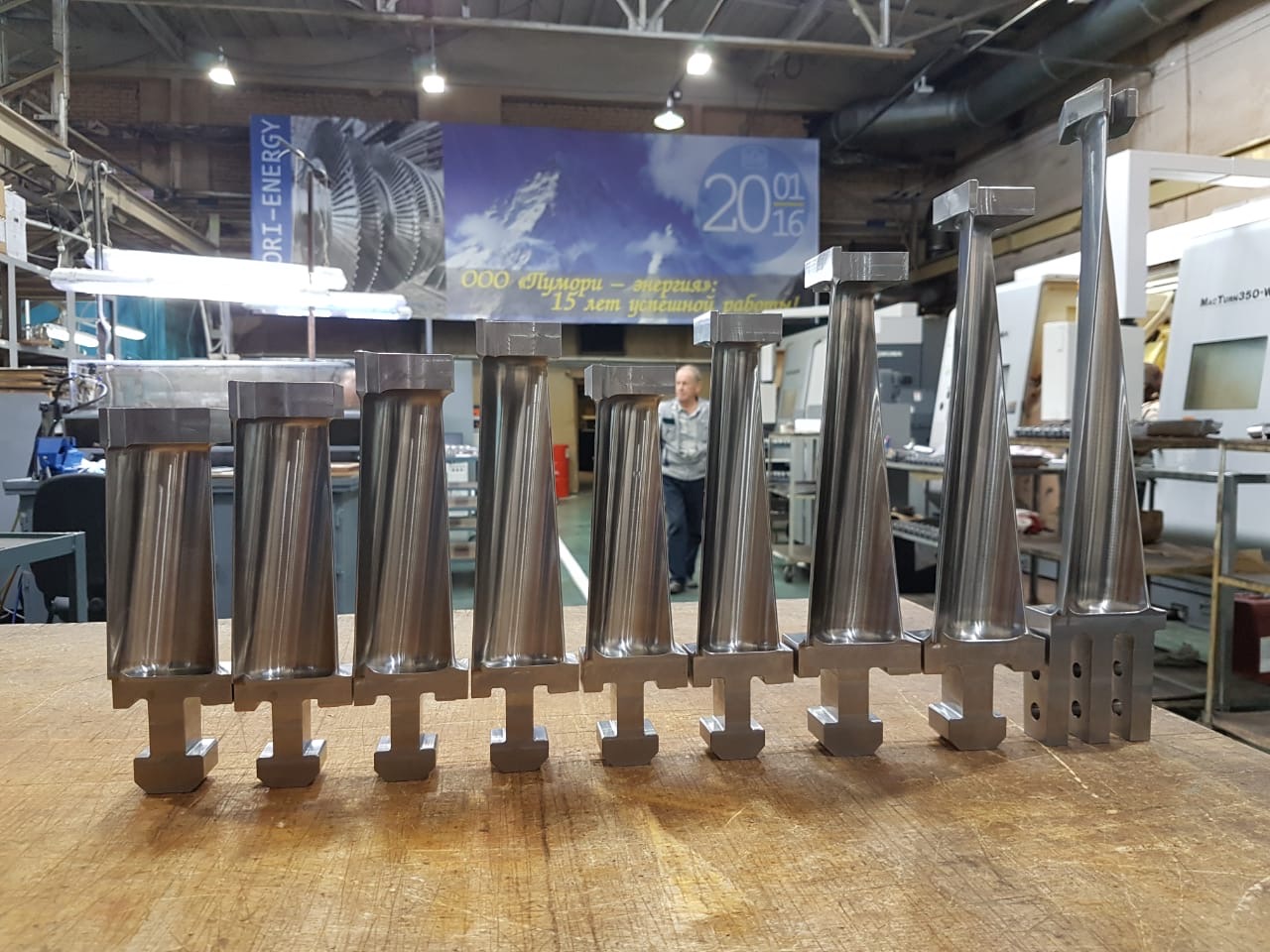 Changeover to modern CNC machining centres
Two 4–5 axis machining centres made by Okuma (Japan) have been put in service in place of 5–7 manual machine-tools.
Ongoing upgrade of machinery
New models of modern equipment are being designed, and specialists of Pumori-Engineering Invest deliver newest machine-tools, which reduce the machining time and upgrade the output quality. In the end of 2019 and early in 2020, two sets of state-of-the-art high-precision machinery were delivered and put in operation, increasing the quantity of blades/vanes produced.
Monitoring of production processes
Commercial operation of the AIS Dispatcher production process monitoring system has been started. The system was designed and produced in Russia as an Industry 4.0 tool. Its application was begun with monitoring the work of the machining centres and of the staff: the load factor of the machines, reasons for downtime, etc.
The production runs round the clock, and the statistics are collected continuously. The data takes the form most convenient for this or that department. The process engineers need an insight into idle, set-up, and manufacture time; the planning and estimating specialists focus on labor consumption. During the first two years the effective load factor was brought up to 70%.
Tool management system
Another Industry 4.0 element is the tool management system (TMS). It was delivered by Techtrade Ltd. They presented a system consisting of a Matrix intelligent toolbox for cutting tools and of software helping optimize the tool stock and make it 24/7 available to machine operators without a toolkeeper. The consumption of tools is calculated at actual and not based on general averaged guidelines of manufacturers. The system provides data on how many tools have been consumed for one blade, with the possibility of analyzing the causes of overconsumption and planning action to increase its utilization.
FORWARD-LOOKING PLANS
Creation of a unified MES
Collection of all statistical data results in a kind of BigData. Further plans include analysis and identification of relationships among various parameters of recording and monitoring. Based on that, well-judged decisions are to be taken on development and automation of the production.
The company has plans to carry out technical auditing, to develop the tool management system, to merge all isolated elements, such as AIS Dispatcher, TMS, 1C system, into a single MES.
Production automation
Data collected by the MES will be used to specify the operations and processes needed for automation. After that, an engineering company has to come in with appropriate robotization and automation solutions. And again, there are opportunities with Pumori companies, since Pumori-North-West from St. Petersburg has been in the business of flexible manufacturing systems for years and has a number of implemented robotization solutions. Similar work on integration of robotization solutions is also done by Pumori-Engineering Invest and Ural-Tool-Pumori.