Alexander Balandin: INNOPROM helps promote the Pumori brand
20 July 2017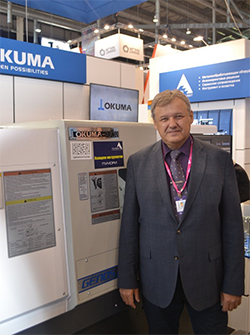 Mr. Balandin said the Pumori Corporation has been taking part in all Innoprom exhibitions from the very first. We successfully use these exhibitions to promote the Pumori brand. Practice shows that however well known a company is, it must maintain its brand awareness, and do it on a continual basis. Innoprom is gaining momentum with each year: there are ever more visitors, their status is getting higher, the demand for exhibit spaces is growing. Consequently, the area of our stand is increasing and its design improving. Conveniently, this year's official partner of the exhibition is Japan.
Our stand in Innoprom was visited by Mr. Hiroshige Seko, Japanese Minister of Economy, Trade and Industry, and I had an opportunity to tell him about our successful cooperation with companies from Japan.
For about twenty years Pumori has been cooperating with a dozen of high-tech Japanese companies.
With Okuma Corporation we have implemented over a thousand joint engineering projects. We have also established production of Genos metalworking machines branded as Okuma–Pumori. A licence agreement is in place for manufacture of a whole line of such machine in our facility.
The project is developing, it enjoys the support of the Sverdlovsk Oblast Government and the Governor. Last year, we assembled and sold 25 such machines, with a plan of 40 this year. Our capacities enable us to produce up to 200 machines per year — depending on the demand.
The local content of machines manufactured has been growing with every year; this year it amounts to 40% That meets the standard for certifying Pumori as Russian producer, which entails a number of advantages for marketing in Russia. The local content will continue to increase; however, we do not aim for 100%, since it is important to retain the Okuma brand, which is highly valued all over the world.
It is not for the first time that we are exhibiting our key tool developments. One of the latest is a unique boring tool system, heads with digital readout, has also aroused a vivid interest of our partners and exhibition visitors.