Pumori Corporation presents a new 3D feature for the first time in the Innoprom Fair
13 July 2017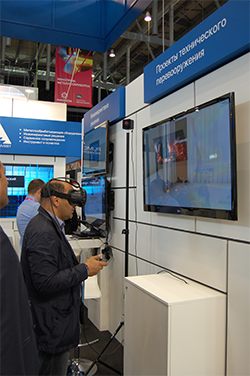 EKATERINBURG, 12 July. /TASS/. For the first time Pumori Corporation has presented an opportunity in the Innoprom 2017 International Exhibition to assess and feel the space of a yet-unbuilt new factory workshop.
General Director of the Corporation Alexander Balandin told TASS that the new feature to be used in the process of starting new production facilities is based on 3D fan technologies. "When one makes a drawing of a future factory workshop, for example, one can see the layout of production lines and equipment on paper. But the customer wants to visit the workshop before it has been built. A virtual 3D mask enables you to go into the future workshop and get the feeling of where things will be located, how they can be used, how the equipment and people will move about, whether the space is user-friendly," said Mr. Balandin.
He also noted that such "transporting-to-future" tool creates an additional effect and a powerful motive for implementation of the project. "From the viewpoint of illustrative value and target awareness as well as understanding of whether one makes correct investments, whether they will return benefits and pleasure, this technology is very expressive. The customers we have been showing it to have experienced positive emotions," he said.
Implementation of a project from scratch, that is from the assignment, takes from one to six months starting from the paperwork stage. The longest project done by the Corporation was a big gearwheel-making factory in Russia: it took us eight months.