Pumori-Engineering Invest engineers a new CNC lathe
10 July 2023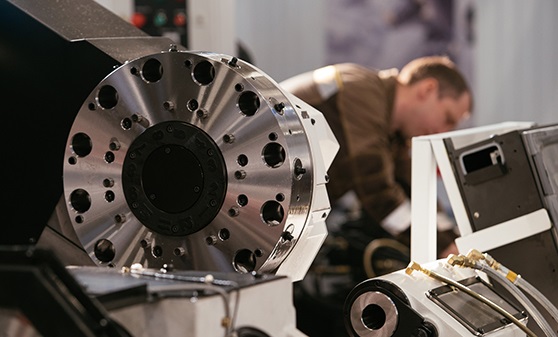 Pumori-Engineering Invest has assembled a prototype of the Russian turn/mill centre, Pumori Genos TF‑12/500. It was designed after a Japanese analogue produced by the company here in Russia since 2010 under a licence agreement with Okuma, Japan's machine-tool manufacturer.
"For several decades we delivered Japanese high-tech machinery to the Russian market. After the sanctions were put in place, the project had to be braked. Then we decided to make use of the competencies acquired during the years of cooperation with our Japanese colleagues and to make a machine tool of our own, its main components to be manufactured in Russia", explained Pumori-Engineering Invest General Director Vladimir Revzin.
The design took about a year. The Russian-made content share in the new machine amounts to about 60% and includes main cast pieces, elements of the hydraulic drive, and the CNC console. The company will go on adding local content; it plans to have the machine entered in the Russian Product Register maintained by the Ministry of Industry and Trade of the Russian Federation.
"The Pumori machine-tool will serve as a replacement for the Soviet 1K62, which worked in every machine-building factory of the USSR. By various estimates, the number of those obsolete machines even now operated in Russia comes to about 50 thousand units. We hope that our machine helps modernization of the metalworking sector", noted Mr. Revzin.
According to him, the technological capabilities of Pumori's machine are wider: beside turning, it mills, threads, drills and bores; also, it has CNC. This kind of machine tool is usable in all machine-building sectors.
Now the prototype is undergoing tests to be completed by the end of this year. Then the machine will be installed in a production facility of Pumori "to adjust its operation". It is planned to launch quantity production in 2024 with 25 to 100 units per year.
The product will be displayed in the Innoprom‑2023 exhibition. "During the last decades, the production volumes in the Russian machine-tool and tooling sector have reduces dramatically, and equipment was mostly purchased from European and Asian manufacturers. Today, this dependence is a big problem, which must be solved, through own production among other things", concluded Mr. Revzin.
https://www.kommersant.ru/doc/6095927?erid=4CQwVszH9pUiKzZVVhs