Pumori Corporation enters the list of Russian manufacturers
26 April 2017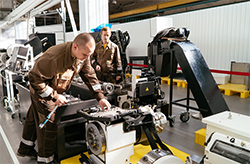 EKATERINBURG, 24 April. /TASS/. The Ministry of Industry and Trade of the Russian Federation has included three companies from the Sverdlovsk Oblast in the list of Russian producers, and that means, among other things, that these companies are now admitted to government procurement procedures. That was reported by the Oblast Governor's Information Policy Department.
According to them, "major machine-tool producers of the Sverdlovsk Oblast — Pumori Corporation, Sverdlovsk Toolmaking Plant, and GRS Ural — have been included in the List of Manufacturers of Russian Goods of the Russian Ministry of Industry and Trade. That means that the products of these companies will be admitted to government procurement procedures and will be eligible for enjoying various preferences."
According to the data of Sverdlovsk Oblast Minister of Industry and Science Sergei Perestoronin, at present machine-tool manufacturers of the oblast are implementing programs of replacement of imported components by those manufactured locally, which will lead to the local components' share in the ready machine-tool being as high as 70% by the year 2020.
He added: "Sverdlovsk Oblast Governor Evgeniy Kuivashev has set the target to increase output of competitive high-tech products with a large share of locally-produced components. Systematic effort toward that goal has enabled our machine-tool makers to be entered in the Ministry's list, and now they can become suppliers of large Russian corporations."
Pumori Corporation opened Russian–Japanese quantity production of Genos CNC machines designed by Okuma Corporation (Japan) in Ekaterinburg in March 2016. Alexander Balandin, General Director of Pumori Corporation, member of the Presidium of the Union of Machine Building Enterprises of Sverdlovsk Region and of the Ural Chamber of Commerce and Industry, informed TASS that in 2016, Pumori produced 32 Okuma Genos L300 CNC turning centres, planning 40 machines for 2017.
"The agreement with the Japanese partners also provides for a possibility of subsequent assembly of more sophisticated models, such as CNC Genos L400, and the simpler Genos L200. The output planned is 120 machines per year until 2020. It can only be implemented in a positive market situation, but so far the demand in Russia is falling behind," he said.